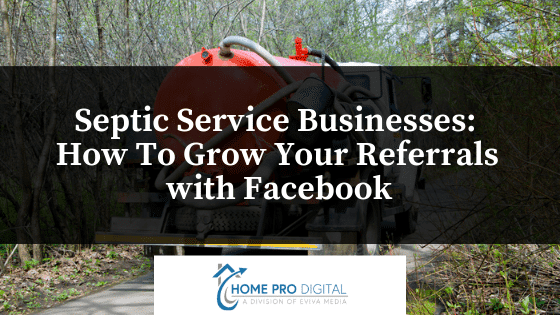 Septic service isn't a business many people think about until they need it. At that time, they usually rely on those who they always go to, or who their trusted friends or family use for servicing their septic system. Getting your name out on TV, the newspaper, or the radio isn't always effectively timed with the need for a trusted company name during septic emergencies. If referrals and existing customers are the best path to continued business, how do you capitalize on that with Facebook? It's easier than you might think. Since the reach of Facebook extends all over the country and beyond, most of your customers will have access to your Facebook Page. It's up to you to use your Page in such a way to engage and develop those relationships so they translate into loyal followers who keep coming back.
Keep Your Septic Service Customers Coming Back Using Facebook
There are specific things to remember when using Facebook for maximum marketing results:
Promote your Facebook Page – While having a great website is useful, your customers won't visit it without a reason, but they likely visit Facebook daily or at least several times per week. Articles from your website and links to related content can be posted easily on Facebook through posts on your Page. Facebook ads can keep customers updated and your company on their mind. Use your website to promote your Facebook Page. Your Facebook link should be highlighted somewhere on your business cards, ads, brochures, newsletters, invoices, and other literature, as well as on your website.
Educate your fans & become the industry expert – You might not think people will be interested in reading articles about septic tanks on Facebook, but homeowners who've used your services already know the benefits of proper maintenance, or at least of having a great company help them in an emergency. Build on that by reminding them via your Facebook Page through informative articles and maintenance schedule suggestions. Create content that describes how they can best prevent septic problems while supporting a community environment. Be the "thought leader" and septic industry expert they can rely on for helpful information. Remember not to rely on all of your followers seeing your posts in their feed automatically. Only a small percentage of followers will automatically receive your notifications on their feed. Facebook has a feature for creating related ads and boosting them to additional contacts and others on their friends' lists. If set up properly, boosting can be an affordable way to reach a lot more people.
Share reviews – Reviews are probably one of the most important ways to utilize your previous customer relationships to solidify and establish loyalty and return business. Ask your satisfied customers to leave a Facebook review on your Page using the review feature. They'll get to rate your service and give a short description of their experience. Don't stop there. Post occasional testimonials from previous customers that highlight those followers with photos and quotes. Customers will enjoy hearing authentic stories about the experiences of other clients. It produces trust and credibility in followers and emphasizes your care and interest in customer
Use customer email addresses to target with Facebook ads – You already have the contact information for previous customers. Let them know about your Facebook Page through your website or via email. You can send out your Facebook Page address or add it to your signature in your emails, or even let them know in a text to their phone numbers. You can create special and specific ads that only go to your previous customers. This is a great way to promote "loyal customer" specials, events, and maintenance packages.
Using social media effectively can be far less expensive with a better return on investment than other traditional advertising such as print, TV, or radio. You might not feel you have time or skills to give proper attention and effort to your Facebook Page. Need help planning or strategizing your social media campaign? We can help you set up your Facebook Page and keep it maintained. Take a look at Home Pro Digital's affordable DIY social media packages for septic service companies. Contact us today to discuss your Facebook promotional needs.