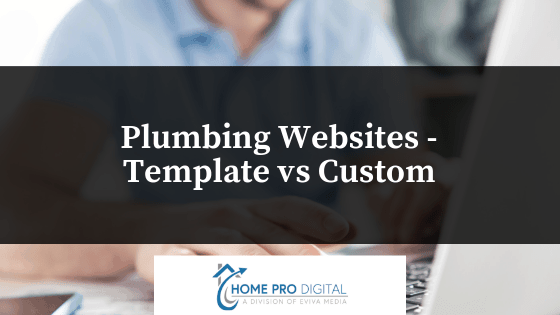 When marketing your plumbing business, one of the first steps you take is to create a website. Your future plumbing customers will use directories, searches, maps, and business guides when they need to hire a plumber, all online. Today, when your customers' fingers do the walking to find someone to fix their toilet or snake their sewer line, they do it on a keyboard, phone, or tablet. Your website is your marketing home for your plumbing business.
Purpose of Your Plumbing Website

A useful plumbing service website will inform searchers about your company, your services, and give you the opportunity to show off your expertise and great reviews. Eventually, you can add articles of interest, instructional videos, and blogs to increase your image as the go-to plumber. You can link this content from your website to various social media platforms to expand your online presence and widen your audience.  
Creating Your Website

Years ago, the only way to create and run a website involved learning complicated code; which most business owners didn't know how to do. It was standard to hire a web designer to build and maintain your website, which could be pricey. Today, there are more options.
Custom Site vs Templates

So, what should you do? There are pros and cons for each approach to creating a website for your plumbing business. First, let's make sure we are on the same page with what each option is:
Custom Website – Hire a professional designer or company to create a completely custom website with a unique design or functionality.
Template Website – Choose from a pre-designed layout and customize to fit your brand.
Design – The custom website will win out here. The sharper the website, the more professional your company looks to site visitors. If you are able to go the custom route, a professional designer will work with a developer to create a sophisticated website with custom images, icons, and features reflecting the specific personality of your plumbing business. A template-based website is more generic and without many of the choices of a custom job. For many plumbing businesses who don't have as big of a budget a template-based website is a fantastic option.
Cost – If you are looking for the more affordable option, a templated website will be perfect. A custom website is likely 2x the cost of a templated site. The most important thing to think about with cost is how much business do you expect to bring in with the new website. A website should pay for itself pretty quickly either way!
Functionality – Your business needs will determine the winner here. If you want your website to do more things, you may have to look at a custom build. Templates are more limited in their functionality with things like online schedulers, built-in payment portals, employee access sections, etc.  
Content Updates – Both custom and template-based websites are easy to update if you have the right tools in place, so there isn't any advantage there. The important thing is to make sure your website is built with the best editing tools so that it's easy for you or your staff to go in and make any necessary changes to the site, or that the team is responsive to your requests.
The Bottom Line

Developing customers, giving great plumbing service, and making profit are your first priorities. Your website should support you in those priorities by bringing in new business. Home Pro Digital understands plumbing businesses and how to build websites and marketing plans that bring in measurable leads. Contact us for information about how we might help your website development or maintenance fit your goals, as well as your budget.