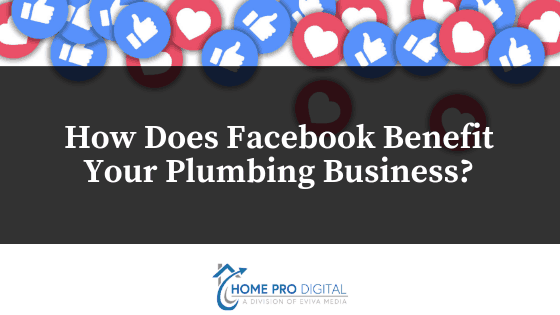 Whether your plumbing business is a large, full-service super plumbing service with state-of-the-art equipment or your Dad's small-town plumbing business, you'll need to get the word out about why you are the one to call when a plumbing emergency or service job comes up. You need more than a website and more than being in a directory, the phone book, or in a local newspaper. You need to be on social media because that's the way this generation of homeowners connects.
How Important is Social Media for Plumbers?

To understand the brilliance of Facebook for marketing your business, you must understand why social media is essential. Print media is disappearing before our eyes, replaced by online magazines and news sites. News is read or watched more online than newspapers and TV, and consumers want instant gratification, instant facts, and instant search results. People communicate with hundreds of their friends, family members, and old acquaintances via digital postings. Social media platforms, such as Facebook, Instagram, and others have linked all online elements – website links, videos, personal news, group forums, and private chats – together on one hand-held device which is never left at home or put down. It makes social media a powerful influencer. If your business is unreachable on social media, it doesn't exist to digital users.
Facebook – the Queen of Social Media

Facebook has been around for 16 years as the most widely used social media network for virtually all age groups; with 2.20 billion active users. According to Pew Research, of all online adults in the world, 79% use Facebook regularly, and 68% of all American adults use Facebook regularly. This rate is higher than adult Americans who watch television's top three or four networks combined. Facebook is farther reaching than any other social media platform. The nearest close runner to Facebook is Instagram, also owned by Facebook, with only 32% of Americans using it. Having a business presence on Facebook is expected, not an exception.
What Facebook Can Do for Your Plumbing Business

While you probably have a website, oftentimes the only people who make their way to it search specifically for your service in your area. Your business may show up 15 listings down from the top, with few visitors patient enough to scroll down to click your link. Facebook can increase your reach to potential customers. Here's how Facebook can help market even your local plumbing business:
Develop a following – The most-followed small business pages on Facebook belong to local companies: a DJ, a consignment shop, a mom's crafts business, a young girl's marketing company, a gardener, southwest-style grill restaurant, mineral/gem store, chicken décor store, pool supply, and a home-made dog treat baker. These pages are lauded for their sense of humor, interactive contests, personal engagement, helpful tips, and educational and inspiring posts and videos—all linked from their websites. Enough content shows they know their business, so they've become the "experts" in their fields. The rest of their content gets personal with staff photos, stories, and inside jokes.
Cheap and Easy Exposure – Creating a page is FREE, with little expense to reach a lot of people. Your followers do the work for you by sharing your posts; sometimes going viral if your content is attractive and interesting. Facebook offers affordable options for boosting posts with algorithms that calculate geography and those most interested in your service. You can also create and distribute ads from your page. Facebook's free analytics show when followers are most likely to see your posts, so set free timers to post automatically when they are online. The more people see your posts, the more they visit your website, producing business-generating foot traffic.
For little cost, Facebook gives you access to more customers than you could ever serve, with a platform to gain followers who forward your great content. Putting a little time and care into your page; linking to your well-maintained, user-friendly website can yield great rewards. Let Home Pro Digital show you how to get the most out of using Facebook Page.