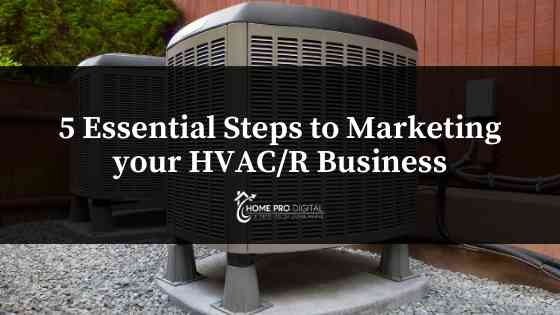 You have been asking your family, friends, and customers for referrals but it's time to expand beyond your immediate circle. You know that you need to create a marketing plan, but you aren't sure where to start and who to listen to. As marketing professionals in the HVAC industry let us tell you what has worked for our HVAC clients.
Step 1: Get your HVAC website set up.
Many people think of their website and marketing as two different things, but the truth is that your website plays a HUGE part in your marketing – both online and offline. Everything you do will either directly or indirectly send people to your website. Not to be dramatic, but if your website is set up incorrectly, doesn't reflect the quality of your work (aka – looks like CRAP) your marketing efforts will fail. 
The second mistake HVAC contractors make when building their website is that they aren't measuring or tracking results. Sure, you may have a fabulous looking website and it is sending you leads, but if you don't know where those quote requests or phone calls are coming from then you'll end up wasting money on marketing that may not be working. Proper tracking is crucial for scaling your business.
If you don't already have a website you are proud of, this is step one.
Step 2: Claim Your FREE Listings.
Step 3: Build out your Social Media presence.
Set your business up for success by being visible online in the channels your audience uses. Facebook is the largest social channel for homeowners. Make sure that you have a Facebook business page set up for your business. Depending on your local market, Instagram can be another very popular platform for HVAC contractors. Bonus for you: since Facebook owns Instagram you can link up the two business accounts so they can simultaneously post to both places. Setting up an Instagram Business Account is quick and easy, especially if you already have your Facebook business page set up.
When you are posting for your HVAC business on social media, you want to make sure that your posts represent your company well. Your brand is not just your colors and logo. It's how you make people feel. It's the experience people have with you. It's how other people PERCEIVE you to be.
You also want to post consistently. We see the best results when HVAC contractors are posting at least 3x per week. We put together a few free social media posts that you can use for your HVAC business. Download them here.
If you need a little more help figuring out what to post every week, check out Home Pro Vault. You'll find pre-made graphics and captions for you to insert your company information and post. No hassle and no wasting your time creating digital content when you could be out there making a sale. We update monthly so you always have fresh information and stay on top of the holidays. Click here to learn more and sign up.
Step 4: Generate consistent leads with Google Ads.
Google Ads typically come in as the top resource for people when it comes to their return on investment. The great thing about Google Ads is that it's SCALABLE! This means that once you have it running well, you can increase your budget and increase your leads! And when you are too busy and don't need work you can turn things down or off. 
You have the option of running a search ad that targets users already searching for your HVAC services. When you run ads, it puts your business at the very top. The best part? You only pay when someone actually clicks on your ads. 
Our biggest question is "how much does this cost"? Our average client is spending about $1000-$2000 per month and bringing in leads starting at just $20. This obviously depends on the market, but if you are looking to invest in online ads, Google is where you need to start. 
Step 5: Increase recurring revenue with Email Marketing and Direct Mail/Postcards.
Don't discount email marketing and direct mail. Keeping an existing client is significantly less expensive than acquiring a new one. Having an email marketing plan in place can help you save time and money. You can send reminder emails about appointments, send monthly emails with tips for your customer and offer discounts and promotions in the process as well. The same can be said with direct mail. Send a postcard to thank people for using you, remind them of appointments and offer them incentives to come back to you for your service another time. This is VERY different from buying a mail list (which we RARELY recommend).
You can send

personalized thank you cards

to all of your customers. If you don't have a team in place you can use a service like Uplift –

www.sendanuplift.com

. They make it quick and easy for you to do plus it's a nice touch and something customers will remember.

Grow Reviews

! There are so many places where you can grow your reviews. Starting with one or two sites can significantly impact whether a person chooses you or someone else. When you are finishing your service ask people to review you. You can also send an email to people who have used you asking for a review. Give them links to one place to review you. If your focus for the first 6 months is google then only send a google link. After 6 months you can switch to yelp and send an email with a yelp link. Giving people too many options at one time will result in most people not doing it.

Partner with local businesses.

You can partner with local businesses that are in alignment with what you do but aren't a direct competitor. If you do heating and air conditioning then you can partner with a plumber. You can refer each other for those services and gain new customers that way.
To summarize: Having a digital marketing plan is a necessity to grow your HVAC business. Building and managing your website, claiming your free listings, building and maintaining a social media presence, running google ads along with email marketing and direct mail is a full time job. Home Pro Digital can help you directly by building your website and handling your social media and marketing services. We offer a FREE strategy call with ZERO commitments. Just fill out the form below and a member of our team will be in touch!
We make online simple.
Do you need a hand with your blogging or website? We offer services ranging from coaching, maintenance, and full management. Interested in learning more? Request information today using the form below.
Be Our Next Success Story.​
Fill out the form below and we'll be in touch to review your current website and next steps! There is no commitment and we'll work with you to figure out the best solution that fits your needs and budget.​