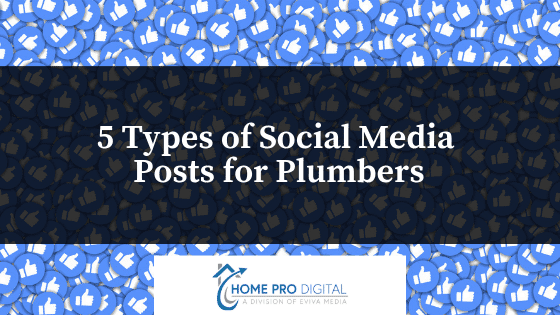 Two thirds of the world's internet users have social media accounts. That number is probably a lot higher for the younger homeowners in your community. It's clear even local plumbing businesses should utilize social media as a large part of their marketing plan. Social media is far less expensive and accessible than TV commercials or radio spots and far more effective than newspaper ads.
Social Media Posts that Build Your Plumbing Brand
There's nothing like using social media to get your name out when an emergency happens. It can help you establish your company as the resident experts in your field and engage your customers directly. Here are five kinds of posts that will accomplish your marketing goals:
Get 5 FREE Plumbing Social Media Posts
Informational articles – Your potential customers often go to the internet to find answers before they decide to call a service provider. They have a problem, maybe a leaky toilet, and need to read up on it to decide if they can fix it, how big a job it might be, and when they really need to call a pro. Blogging about various plumbing topics is a great way to be found in these types of searches. You are a wealth of information – share this on your social media pages.
DIY videos – Don't be worried about losing business by showing potential customers how to repair a leaky faucet. In fact, becoming transparent about how plumbing works builds credibility for your company and develops trust. Anything that establishes you as industry leaders get your name out there for jobs they just can't do themselves. You can post them on Facebook, Instagram, YouTube, and run them on your website.
Live video streaming – Along the same lines as posting helpful videos, how about creating a live event, something like an "Ask the Plumber" segment where followers can type in questions that you answer live on video? Followers love direct responses and you get another chance to show off your expertise. You can even use your phone to do it. Facebook, Instagram, and YouTube all have "live" options.
Social media contests – Post a funny photo contest on Facebook or Instagram for followers to create a fun caption. Offer actual prizes, not only discounts for your services but gift certificate to local restaurants or shops. You could quiz your fans about plumbing stats (example: How many gallons does the average US family of 4 use in a day? The answer…. 400!) The more you get customers to interact and post on your social media accounts, the more exposure for your business. An inexpensive win.
Personal photos, updates and humor – Social media users will follow anyone who interests them. Yes, they might even follow regular tweets or posts from a plumbing company if you post funny or inspiring quotes, jokes, and images. Posting photos of the staff and of employees working on unusual or big jobs in the field can give people a behind-the-scenes look into your business and further build engagement and a feeling of connection.
Getting your customers to engage with you on social media creates followers and develops trust. The more they trust you, the more likely yours will be the number they call when they need plumbing services. Think you don't know how to do this, or don't have the time? Home Pro Digital is giving away 5 free social media posts just for plumbers. We can get you started or take a more active role with your posting schedule. If your business could use better engagement, help with targeting your customers, or creating great website content, give us a call today.
Get FREE Plumbing Social Media Posts
Grow your plumbing page on social media with our FREE graphics & captions. Download for FREE today! Just copy, paste, & schedule.