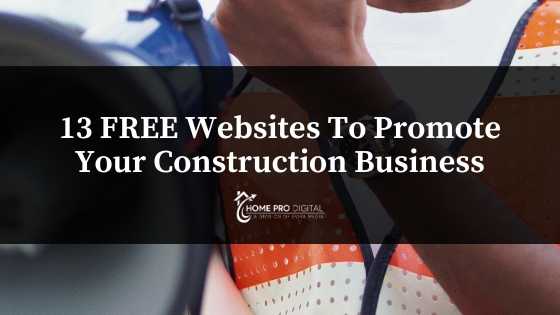 There are hundreds of websites your construction business can be listed on so that you can be found locally for search and many of them are FREE.
Adding your website to directory listings is helpful for a few reasons. 
It helps your website rank higher in search results (SEO is a big buzz word and this helps your website's SEO!)
When people look for information on your business, these listings show up. If the information is wrong or missing, they will move on to the next business!
Finding time to keep your business everywhere can be a challenge so we are making it easy for you. The big thing to remember is that you should utilize the FREE listings, but rarely does it make sense to pay for a premium listing or platform-specific advertising. With that in mind, check out the list: 
There are hundreds of other free listing sites, but these are the top. It's so important to make sure that your business information is complete and correct across all online directories! If you are interested in having us run a FREE scan to make sure you aren't losing out on any business due to incorrect information or missing links, contact Home Pro Digital today!
We make online simple.
Do you need a hand with your blogging or website? We offer services ranging from coaching, maintenance, and full management. Interested in learning more? Request information today using the form below.
Be Our Next Success Story.​
Fill out the form below and we'll be in touch to review your current website and next steps! There is no commitment and we'll work with you to figure out the best solution that fits your needs and budget.​