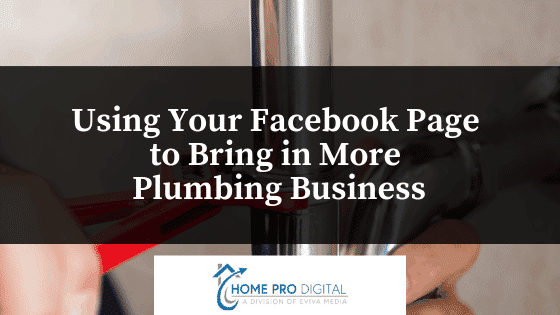 You have a website, great. You know you also need to have a social media presence to promote your business. Of all the social media platforms out there, most of the time businesses need to at least have a Facebook page. Your local plumbing company should think seriously about creating one. It's important to understand the strengths and weaknesses of Facebook, so you can make the best use of it for your business with the time you have.
Facebook is Great for Engaging New Customers that need Plumbing Services

There are other social media platforms that can do parts of what Facebook can do, but some aspects of Facebook makes it better for attracting and retaining customers:
Facebook is the king of social media – There are almost 2.5 million Facebook global users. Over half of them log into Facebook every day. Those percentages are even higher in rural communities. Facebook users are most likely to own a home and need your services. Imagine having the ability for your plumbing business to engage directly with your local customers every day. That represents an opportunity no other social media comes close to.
Strengthens relationship – Your customers live in a digital age, and that's formed expectations for recreation and information gathering. Since most of our entertainment now comes via internet streaming, our advertising has to adapt. Internet users don't have the patience to watch commercials anymore. They're interested in content. Stories, photographs, and direct interaction with content providers is what keeps their attention. Sharing content on your Facebook page from informational blogs and DIY videos linked from your website will develop Facebook followers. You can become the local trusted expert in plumbing because your followers get to know you and trust you through your Facebook posts.  
Facebook extra services – Facebook offers analytics to help track when your followers engage with your page down to the day of the week and time of day. It collects information regarding user age and interests. Using these analytics, you can time your posts for optimal exposure. This also allows Facebook to more accurately target your paid ads and content boosts to users who might be more likely to use your services.
Scheduled posts – A very useful feature businesses should take advantage of is scheduled posting. Content and links can be written or set up ahead of time and then preset to launch on your Facebook page on specified dates and times. This allows you to be on top of staying engaged, even when you might not have time to get to it. It also aids in keeping your posting calendar straight when you plan ahead.
Mobile devices and Facebook – Studies prove over 70% of all the internet use in the US occurs on mobile devices. This is significant, since some social media platforms are only created to look good on a computer full screen. Facebook used to be one of those, however they acquired a few other social media platforms which were created to function best on mobile devices. Facebook adapted that same mobile technology for their own platform, so the experience on smartphones and tablets has greatly improved.
Home Pro Digital can help your plumbing business create and make the most of your Facebook page. You can establish your company as the resident-trusted expert very easily on Facebook and we can walk you through it. We can guide you in creating your marketing plan, help with your website and even create fresh content for you. We know you want to run your business and you may not have time to maintain your marketing schedule. Let's discuss your business goals and how our affordable, customized marketing plans can best serve you.