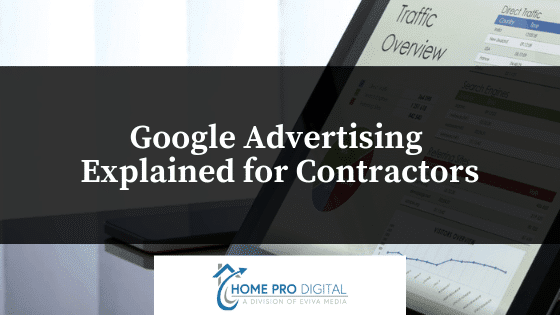 Google Advertisements, also known as "Google Ads" are a great way of moving relevant traffic to your construction business's website. Google is a massive online presence, with the largest and most-used search engine on earth. Using data collected from the 2.3 million Google searches done per second, Google can help you target your ads toward people who are currently looking for your services whether they're in need of a plumber, HVAC contractor, builder or any other type of home service.
How Google Ads Benefit Your Marketing Plan
Google has several benefits for getting the most our of your advertising dollars:
Accurately Targeting Your Customers – Sending ads for bathroom remodeling to a teenaged girl obsessed with trying out for "The Voice" is advertising money wasted. Likewise, advertising for your home contracting business in Long Island is a waste of advertising sent to a family in Pasadena. Simply put, Google Advertising uses data gathered through its vast network to match your ads to potential customers who have the most appropriate interests, geography, and resources. You want your ads to be seen only by potential customers in your area who might utilize your contracting or construction services. This saves you time and money in the long run.
Pay per Click – There's a way to keep track of just how many clicks, or visits to your website, are a result of potential customers seeing your ad. Google AdWords tracks all clicks made from your advertising link. You pay for actual visits made to the site, so you are sure to get the most out of your money spent on the ads. 
Set Your Own Budget- With Google AdWords, you can set up your own daily or monthly budget of what you expect to pay for your ads. This is perfect for contractors who have a set budget they need to stay within for their advertising! You can evaluate the amount later and change it at any time.
Track Your ROI – With Google Ads, you can easily figure out what profit you've made by comparing how much you've spent on your ads. Reporting tools allow you to track the number of phone calls or web inquiries you receive through your advertising to measure ROI.
While Google Ads can be set up by your business, it's a good idea to have a pro agency help you to set up your Google AdWords account. There are many options to consider when setting up: number of ads, cost per click, and budget limits. There are also many other settings on your Google Ads account which affect the direction of your ads and how you are charged.
While it's a powerful tool, Google AdWords can be tricky to set-up or to know how to interpret the resulting data, and then to maintain the ads or know when to make tweaks in the account. Home Pro Digital can help you set up your Google account or can work with you on a schedule to do all of the maintenance of the account. Contact us to find out how we can make this process easy and effective for you today.